My first...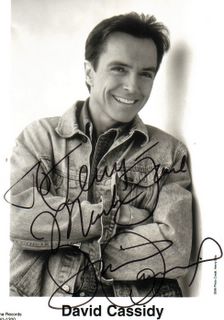 You already know that I have too many celebrity crushes (hey, let's face it... they're more fun than any I've had in real life recently. In fact, I haven't HAD any in real life recently...but that's another post altogether).
And it all started long, long ago with a certain fella with feathered hair and a lovely singing voice. I am, of course, referring to David Cassidy.
The alarming thing about that crush is how young I was when I had it. I must have been about 6 when it started. Doesn't that seem awfully young?? He was so pretty, though...
Anyway. I remember what a thrill it was when "The Partridge Family" was on TV each week. I remember the first time I had strep throat and was laid up in bed, my dad, the strict military guy, uncharacteristically bought me a bunch of teenybopper magazines featuring Mr. Cassidy to make me feel better. My dad even once tried to get tickets so he could take me to see him in concert, but the show was sold out.
This early crush is tied to some of my memories of my father (NOT in a twisted way, mind you!). And I lost a lot of those memories after his death, so the ones I have, I treasure. So I have always had warm feelings about David Cassidy, in a weird sort of way.
In the late 90's, during a trip to Vegas, my friend Ellen and I were hoping to see him in some long-running show he was in, but he was on vacation the week we were there. I was bumming, because it would have been fun to finally see him after all those years.
A few years ago, he was set to perform in Tahoe right around my birthday, so she got us tickets as my gift. I was just tickled.
And then one day, just before the Tahoe show, he showed up where I work. Worked, I mean.
I walked in the door one morning, and one of my co-workers told me that someone I really, really like would be doing an interview in a little while with our sister station. She wouldn't tell me who it was. I couldn't figure out who it could be.
My co-workers then made me stand in the hallway at the appointed time, and when he rounded the corner, all I could do was blurt out, "Oh my God." Like a 6-year-old dork. Because the last thing I ever expected was to actually meet my very first teen idol. At work, no less.
He was very friendly and polite, said hello to us all, and was swept into the studio for his interview.
Despite my extreme dorkdom, I am not in the habit of ambushing celebrities. Especially at work (just ask Angela how well-behaved I was when Dave Matthews was on the premises). I figure they get really tired of the gushing from dorks, and when I'm at work, I DO try to be a professional. (I said TRY.)
But after I got some work done, I ran back down the hall and told him the little story I've just written here, and he gave me a big hug and signed some CDs and this picture for me. He couldn't have been nicer.
It's so nice when your childhood idols don't dash your illusions.
p.s. The hilarious thing is I can't read what he wrote there. It looks like "To Terry, Much Furl, David Cassidy." No one else can decipher it either...